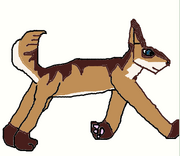 Miku-Brother of Kyou, son of Aka and Myra.
Little is known about him except he left before Kyou's birth and the death of his father Aka. He ran into Jane who also left to travel as well. He meets Koyuki, Joe and Yukimura after being thrown into the cage they were being held in, learning that not only does he have a brother, he is also an uncle to three males.
Churin tells him that he has little hope of freedom.